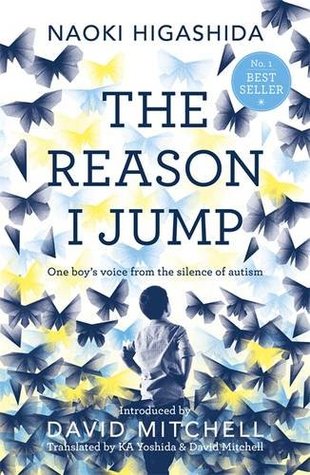 Title: The Reason I Jump
Author: Naoki Higashida
Publisher: Sceptre
---
'A story never before told and a memoir to help change our understanding of the world around us. 13-year-old Naoki Higashida's astonishing, empathetic book takes us into the mind of a boy with severe autism. With an introduction by David Mitchell, author of the global phenomenon, Cloud Atlas, and translated by his wife, KA Yoshida.'
---
Review:
This is a hard book to review, because of it being based around the idea of autism, as well as there being quite a bit of controversy around it, but I thought I would give it a go anyway.
The book was written from the perspective of a 13 year old boy suffering with autism. Originally I didn't know this, so I read the book thinking it was actually from the mind of an adult. In fact, I literally only just found out that it was from a 13 year old, and now I am wondering how a 13 year old could have written this book, especially to the level it was at, but then again, some people are very good at what they do, and in this case it is writing. Still, I am slightly skeptical, because of reading other reviews prior to writing this. I don't know what to think now.
Every chapter is set as a frequently asked question revolving around the idea of autism, with which the author answers in as best a way possible. There is a lot of important information which I found to be seriously interesting, as I didn't really know anything about autism before. However, it may not be the full story, as it just a memoir, meaning that it is mainly what has happened in his life, and how he has felt with it. There are obviously people similar, but autism is a large spectrum so it will obviously vary dependent upon where on the spectrum a person is.
The information may be of interest, but even the author does not know to the full extent why certain things happen, but then again, who really knows how everything works? Saying that, I still managed to learn from what was given to you. The only way is up when you don't know much on a subject, so even a little, was a lot.
This is a book I am still trying to figure out. I am stuck in the middle with my feelings towards it, but if you want to read it, there is a lot you can get out of it, but don't take everything as the be all and all. There is always more to a story, than just one person's view of it.
Chloe Lauren x
---