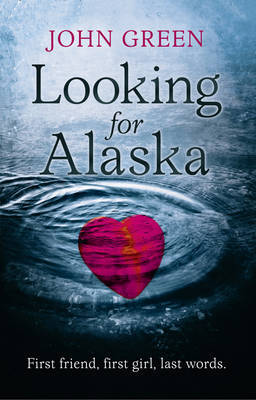 Title: Looking For Alaska
Author: John Green
Publisher: Harper Collins Children's Books
'Before. Miles "Pudge" Halter's whole existence has been one big nonevent, and his obsession with famous last words has only made him crave the "Great Perhaps" (François Rabelais, poet) even more. He heads off to the sometimes crazy, possibly unstable, and anything-but-boring world of Culver Creek Boarding School, and his life becomes the opposite of safe. Because down the hall is Alaska Young. The gorgeous, clever, funny, sexy, self-destructive, screwed-up, and utterly fascinating Alaska Young, who is an event unto herself. She pulls Pudge into her world, launches him into the Great Perhaps, and steals his heart.
After. Nothing is ever the same.'
Looking For Alaska was my third read from author John Green and was a book I got from one of my library hauls in the Summer, but could only have for two weeks because someone else had already reserved it. Good job I read it all in one sitting. What can I say? It is John Green after all.
This is such a beautifully written book which definitely plays on the heartstrings. I was almost in tears and even had to text my friend because I was so upset and really shocked by what had happened. I really didn't see it coming, and it was so quick and abrupt. How can someone do that to me?
I don't usually cry at books, but this was one was just so heart breaking, especially as I had become attached to the characters. When the book was actually finished, I think it was even worse.
I just love John Green's writing style, it fits well with the story he is telling and the characters he has created are very lovable,relatable, and really worked together well, making for a more enjoyable reading experience. However, the content and language used in this book, as well as some of the things which happen within the book, are not for a younger audience.
My friend's, John Green has done it once again. He has managed to break my heart and fix it again within just over 220 pages. Thanks for that!
Lonely Girl Awards Looking For Alaska: 4.5 / 5 Happy Faces