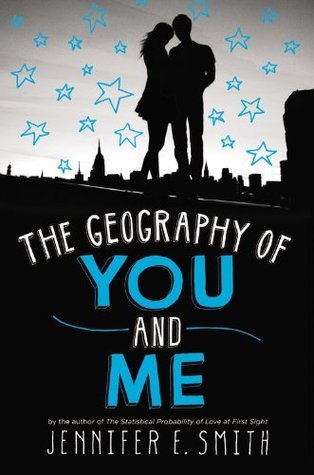 Title: The Geography Of You And Me
Author: Jennifer E. Smith
Publisher: Headline
---

For fans of John Green, Stephanie Perkins and Sarah Ockler, THE GEOGRAPHY OF YOU AND ME is a story for anyone who's ever longed to meet someone special, for anyone who's searched for home and found it where they least expected it.
Owen lives in the basement. Lucy lives on the 24th floor. But when the power goes out in the midst of a New York heatwave, they find themselves together for the first time: stuck in a lift between the 10th and 11th floors. As they await help, they start talking…
The brief time they spend together leaves a mark. And as their lives take them to Edinburgh and San Francisco, to Prague and to Portland they can't shake the memory of the time they shared. Postcards cross the globe when they themselves can't, as Owen and Lucy experience the joy – and pain – of first love.
And as they make their separate journeys in search of home, they discover that sometimes it is a person rather than a place that anchors you most in the world.
---
The Geography Of You And Me was the first novel I had actually come across, or read from this author. I do have another one of her books ready and waiting on my shelf, so I will be getting to that one soon, but in the meantime, I might as well review the one I have read. Don't you think?
Thank you for agreeing!
Let's begin by saying that I hadn't originally intended on picking this up, however, after looking into what others had thought and their feelings towards it, I thought, why not? I mean, it was worth a try at least, and I must say, I am definitely glad that I chose to read it in the end.
Just like with 'Girl Online', the beginning didn't manage to capture my attention due to finding it difficult to get used to the writing style, making for a slow start, but once it properly got going, I was completely hooked.
This book plays on the idea that it is possible to fall in love with someone with just one strange little meeting, but holding on to that love, may not be as easy, and may also require work, as well as keeping up with each others changing lives. It doesn't sound so simple, but I really love it, just believe in the magic of it all and it will really get you as well!
I sometimes do a bit of an eye roll to a cliche like this, but this one, this one was just perfectly fine to me. I can't fault it, and actually really don't want to either.
It's a cute little contemporary read, which will definitely warm up your hearts, especially at this time of year. #ADORABLE.
Lonely Girl Awards The Geography Of You And Me: 4 / 5 Happy Faces